Check out the things we have going on during the week! There's something for everyone. Come, fellowship, and grow in your knowledge of Him.
You're Invited! Join us for Christmas caroling on Wednesday, December 21 at 6:30 pm.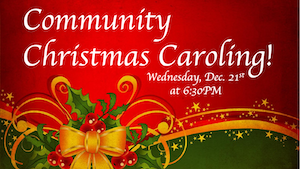 Join us for a special service and play on December 24 at 4 pm as we celebrate the Light coming into the world. There will be candle light, communion, children's play, carol sing-along and a special message. Bring your whole family and prepare for Christmas day with us!
The Book of Acts tells the story of what Jesus is doing in the world through the Holy Spirit and His Church! Come discover this story and be inspired to be the continuation of the story through this in-depth study of the Book of Acts.
Join us every Wednesday @7pm