Check out the things we have going on during the week! There's something for everyone. Come, fellowship, and grow in your knowledge of Him.
You're invited to a bonfire fellowship on Saturday, February 4 at 5pm. Set your GPS to 18148 Round O Rd in Round O, SC and then follow the signs from the driveway to the bonfire location. Bring a camp chair and s'more stuff or just sit and relax by the fire. Pastor Robie will be revealing his theme word for the year as well as giving us the vision for 2023. You don't want to miss it!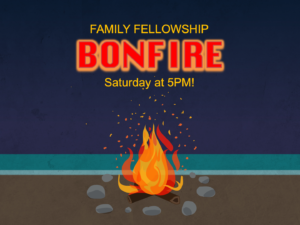 The Book of Acts tells the story of what Jesus is doing in the world through the Holy Spirit and His Church! Come discover this story and be inspired to be the continuation of the story through this in-depth study of the Book of Acts.
Join us every Wednesday @7pm