Trail Life USA Troop SC-9212
MEETINGS: Tuesday Nights 6:30-8PM at River Oaks Community Church
Trail Life USA SC-9212 is for boys 5-18 years old. As a Christ-centered organization, our faith is woven throughout the program without being necessarily "religious" or "churchy." From faith-building options in the advancement program, outdoor worship, to more in-depth discipleship opportunities, adult and youth members receive biblical instruction and training in biblical faith.

Trail Life USA has 6 Program Emphases: Wisdom, Heritage, Teamwork, Leadership, Character, and Faith. Our program components support youth development, understanding, and practical experiences in these key areas.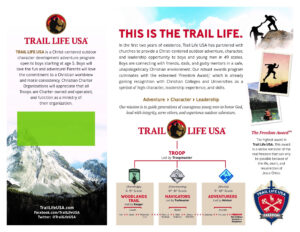 Our vision is to be the premier national character development organization for young men which produces godly and responsible husbands, fathers, and citizens.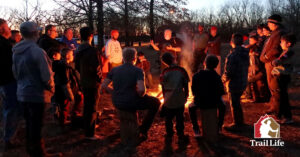 Our Mission is to guide generations of courageous young men to honor God, lead with integrity, serve others, and experience outdoor adventure.
Colossians 1:10 "… that you may walk worthy of the Lord, fully pleasing Him, being fruitful in every good work and increasing in the knowledge of God;…"
FOR MORE INFORMATION OR TO JOIN FILL OUR THE FORM BELOW.